CashCrate
is a online survey & offer completion website that pays you cash & points. Before I dive into specifics whether you can earn money with
CashCrate.
Let me talk about the other blog articles
Every article is a different company that teaches you how to
earn cash, gift cards
, or rewards. This is all Legit! I welcome all readers to post their comments below once they've tried out this or these great offer(s) to
make money online
.
CashCrate
is just another company where you can earn money. It's not a get rich scheme but you can earn money starting with cents up to dollars depending on what type of offer(s) you started and completed. The minimum cash out amount is $20 dollars to your home
address. You can earn money by watching videos, completing offers, answering surveys and much much more...
How? & Where to start?
Just click this link
then enter your personal information which includes your name, email, password, and as stated above your home address so
CashCrate
can mail you your check. The checks will be sent out on the 15th of every month and should arrive by the 24th of every month.
CashCrate
will send you about 2-3 emails a day inviting you to complete a specific survey but there are other surveys you must qualify for before being issued a survey suited for you.
How To Make Money with CashCrate
CashCrate has different offers to complete:
1.
Offers Tab
:
Most of the money I earned was from completing offers from the offer tab.
As you can see below, GreenDot pays you $1.50 once you've completed the subscription for a
Prepaid Debt Card & Home Depot pays you $0.45 for registering for the Garden Club to receive
Free information for your Home & Garden.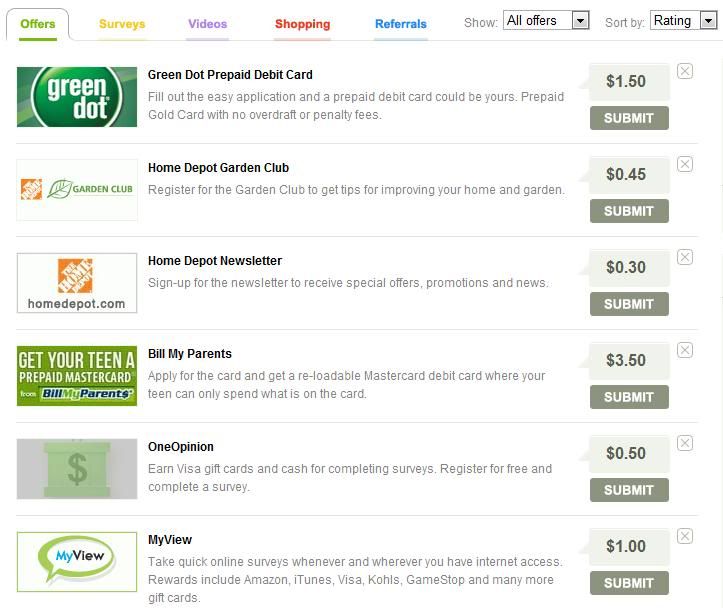 2. Surveys Tab
This is where you fill out surveys as mentioned above.
CashCrate
is not a Survey company it works with Survey company's to give you offers and pay you.
3.
Top Surveys
This section is almost the same as #2, but they are bring in another third party company. You have to fill out a list of questions first to see if you qualify for the next series of questions. But these survey questions do not pay as much.
4.
Referrals Tab
CashCrate
has a two tier referral system with many different levels. The first tier level pays 20% and the second tier level pays 10%. So if you refer a friend and your friend refers another friend you will get paid a percentage. Cool Huh!!!
(See Example to the right).
5.
Videos Tab
In this section you can watch videos and get paid $0.02. Some times it's a video for an advertisement or an educational video. It depends on how long the video is in order for you to get paid a large amount. The highest I've been paid is $0.25.
6.
Bonus Surveys
This is a third section where you can fill out more surveys to earn money but it's going to be a lot less than the first two.
7.
Bonus Offers
In this section unlike the first offers tab the pay out is a lot better. These consist of Paid Offers which means offers that you pay a portion off money and they pay you for purchasing a service, an item, a gift card, or software. As seen below with Pimsleur & Burger King jpeg.
8. Shopping Tab
In this tab you receive discounts when you shop and get paid a percent. This is a very easy way to earn extra money. This can be a temporary job, part time job, pay bills, or have fun while earning money. Should you join, Yes!
Sign up Here!!!



#HowToMakeFreeMoney, #DoSurveysForMoney, #CashCrateReviews, #EarnCashOnline, #WaysToEarnMoneyOnline